Art/Antique/High Value Packing & Crating
With over 50 years' experience, we are experts in packing and shipping art, antiques, family heirlooms and more. We are proud to be the premiere shipping solution provider for Southern California and to specialize in the secure packaging of your high value items.
Whether you're shipping an antique chair for auction at Sotheby's or a Civil War Gatling gun to Europe, every solution we offer is custom designed for safe travel across the country or around the world. Over the years we have worked extensively with private parties including artists and collectors as well as organizations such as galleries, museums and auction houses to custom pack and crate art, antiques and other high value items and coordinate their shipment to a variety of destinations.
Some clients already know the exact specifications of their containers while others rely on our years of experience to design their solution. To help speed the process, we've developed a state of the art computer program that allows us to quickly design and price your shipping container. We've established relationships with most major shipping companies and can arrange your shipment and negotiate discounts on your behalf. It's no wonder we have thousands of satisfied clients. Orange County Crating is your one-stop crating and shipping solution for art, antiques, heirlooms and other high value items.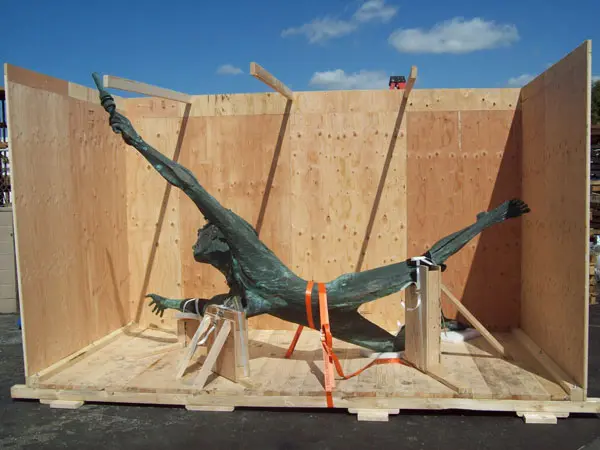 Sculpture blocked and banded for safe shipment