Pomona, CA's Premier Crating, Packing & Shipping Provider for All Industrial, Commercial, and Residential Applications
Orange County Crating is Pomona's best value for high-quality, cost-effective packaging, crating, and shipping. We specialize in:
customized wooden boxes
customized wooden crates
customized, standard, and reconditioned pallets
flat rack wrapping, strapping, and container blocking
small- and large-scale business relocations
international and domestic freight forwarding/shipping coordination
Our licensed, family-owned business provides all of the above services to those located throughout Pomona. We have over 50 years of experience and have served thousands of residential, commercial, and industrial clients across Southern California. Our accrued knowledge and experience shows in everything we do, from our accurate estimates to our expert packaging designs. As your one-stop crating and shipping solution, OC Crating provides professional consultations, fast and accurate quotes, timely design, manufacturing, and delivery of your packaging, on-site/off-site packing, and secure shipping arrangements to any location across the globe.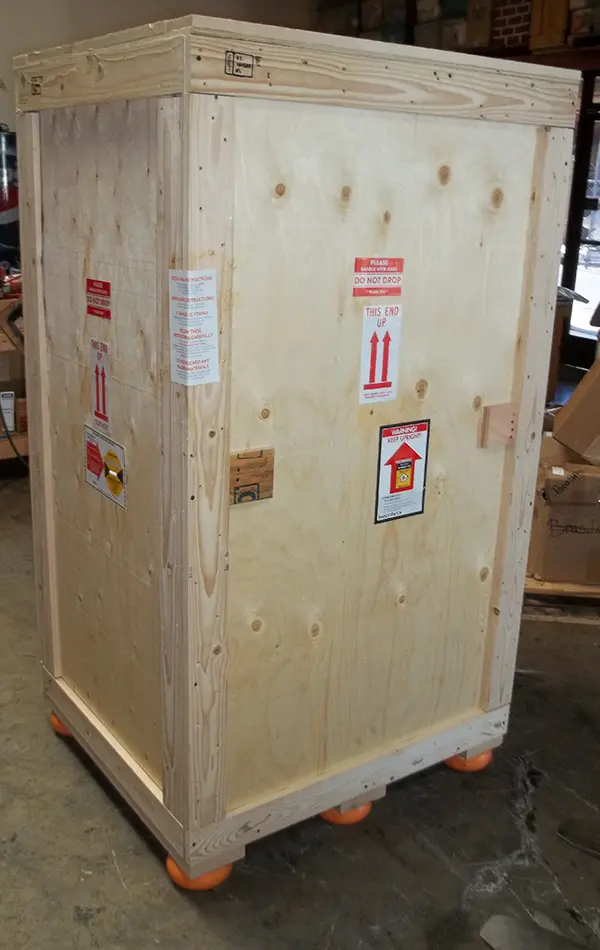 Our employees are highly trained and skilled, and many have been working with our company for over 20 years. This level of experience and expertise means there are virtually no limitations to what we are able to package for our clients. Additionally, as a certified supplier of wooden crates and shipping containers, we are knowledgeable and fully compliant with all shipping rules and regulations, including heat-treated lumber requirements for international shipping.
We provide Pomona clients with free, instant quotes over the phone, online, or in person. There are no minimum or maximum size/weight requirements, and we'll provide you with a custom shipping solution to meet your unique needs--no more, no less. Please watch our video to learn more about how Orange County Crating is meeting the packing, crating, and shipping needs of clients from every industry, including aerospace and defense, automotive, medical, manufacturing, interior design, entertainment, art, and more.
The Preferred Full-Service Packaging and Shipping Company for Pomona, California
Orange County Crating has the experience and capacity to serve all of your packaging and shipping needs in Pomona and beyond. We have been designing custom packaging and shipping solutions for over five decades and can be relied upon to handle, sufficiently protect, and ship items of any weight, size, dimension, or sensitivity. We've established numerous connections and long-standing relationships with most major shipping companies across the globe. Our long-standing, ethical business practices allow us to coordinate shipping and even negotiate discounts or price-matches with these shipping companies. And, our close ties with all major LTD freight carriers as well as air, ocean, and rapid delivery carriers allow for secure and convenient freight forwarding. In addition, we can provide on or off site packing to all Pomona businesses. Call today for a fast, free quote.