Orange County Crating Company: Signal Hill, California's Best One-Stop Crating and Shipping Solution
Instant Quotes * Custom & Standard Designs * Fast Turnaround Times
Orange County Crating is Southern California's best choice for high-quality, affordable packing, crating, and shipping. Since 1971, this family-owned business has grown to be Signal Hill's one-stop crating solution, specializing in wooden crates, boxes and pallets, flat rack wrapping, strapping, and container blocking, reconditioned wooden pallets, small and large scale business relocations, freight forwarding, and more. We offer our Signal Hill residential, commercial, and industrial clients superior quality boxes, crates, and packaging to store or ship almost anything (excluding hazardous materials) at cost-effective prices. We have served thousands of satisfied Signal Hill clients, including individuals, families, and businesses, and understand that each package varies in its packaging requirements; that's why our crating and packaging specialists, many of whom have been working for us for over 20 years, will custom create your shipping and crating solution to correspond to your precise needs, regardless of the dimensions, specifications, and necessary special care.
There are virtually no limitations to what we can do, and we can handle anything from a single small item to multi-dimensional orders and items that weigh as much as 100 tons. We have experience serving a variety of industries, including aerospace, automotive, medical, defense, manufacturing, interior design, entertainment, art, and more. As a certified supplier of wooden crates and shipping containers, we can determine the best shipping container and packaging for your needs. We'll design and manufacture it to your crate or other container to your exact specifications and have it delivered on time, every time.
We are knowledgeable and fully compliant with all shipping rules and regulations, including heat-treated lumber requirements for international shipping, ensuring your wooden packaging will meet its full potential without bowing, breaking, knotting, or splintering and properly protect your shipment. Orange County Crating is licensed and will provide Signal Hill clients with free, instant quotes over the phone, online, on in person at your worksite.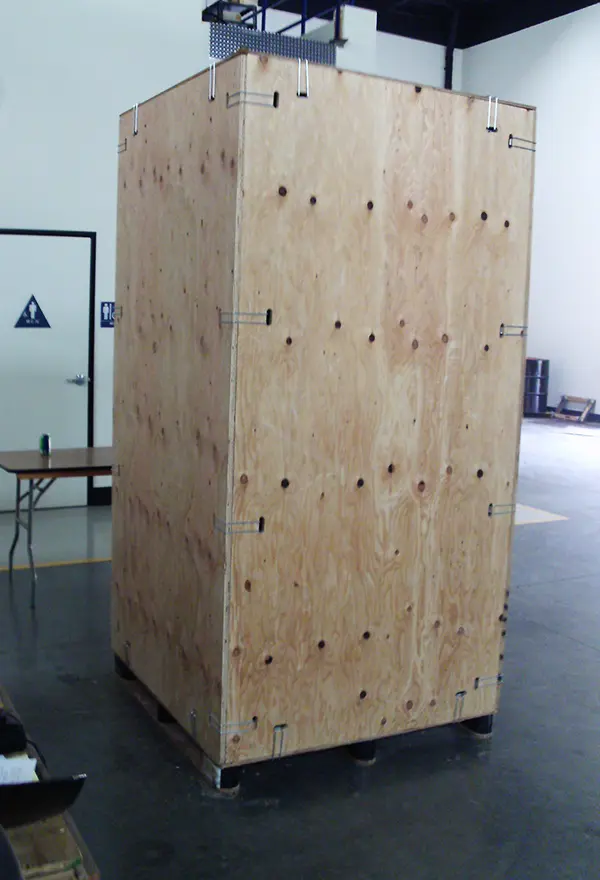 Signal Hill, CA's Experts in Packing, Crating, and Shipping Services
Since 1971 Orange County Crating has been Signal Hill and Southern California's premier choice for packing, crating, and shipping services across all industries and for packages of all types, dimensions, and sizes. Our knowledgeable employees have worked with thousands of individuals, businesses, original equipment manufacturers, movers, and other clients to package, crate, and ship a wide variety of items, including parts, supplies, electronics, equipment, machinery, and one-of-a-kind products.
By using our years of experience as well as an advanced computer program that helps us determine the precise packaging solution for your needs, we are able to ensure the safe transport or storage of any item. We always consider the needs of our client, the end user, and special handling requirements of every shipment, and take the time to develop meticulous and secure packaging without any over-packaging. We also employ any necessary safety measures, such as shock absorbers, blocking, wrapping, and tilt indicators, to deliver even the most sensitive of machines, equipment or electronics. We can package your item at your site in Signal Hill or at ours and arrange shipment to anywhere in the world. Our knowledge and expertise has made us the trusted choice for packing, crating and shipping, with the capacity to serve the specialized needs of the art communique, antique dealers, motorcycle dealers, medical and laboratory facilities, the aerospace and defense industry, automotive industry, suppliers and distributors, original equipment manufacturers, and those who participate in trade shows.
Contact OC Crating today to discuss your packing, crating, and/or shipping needs in Signal Hill. Our diverse experience has made us a leading certified government supplier with the ability to provide cost-efficient, secure, and reliable shipping across domestic and international airways, freeways, or seaways.