Crating, Packaging & Shipping Experts Serving
Garden Grove, CA Since 1971
Over the last five decades, Orange County Crating has built a strong reputation as Garden Grove's premier resource for high-quality, cost-effective packaging, crating and shipping. We provide rapid turnaround and competitive rates for all of our crating/packaging and shipping services, and can coordinate shipping to any destination, domestic or international. As a full-service crating company, Orange County Crating offers our Garden Grove clients:
custom wooden shipping boxes
custom open-sided wooden crates
custom, standard, and reconditioned pallets and skids
business and assembly line relocation services
household packing and crating services
flat rack wrapping and strapping/container blocking
shipping coordination/freight forwarding
Orange County Crating has extensive experience in packaging, crating and shipping items for many different industries including government, defense, aerospace, computers, fine art and antiques, and in businesses ranging in size from sole proprietors to large, multinational corporations. With our capacity and expertise, we can successfully ship items of any size, shape, or weight--from small individual items to heavy-duty, over-sized items that weigh as much as 100 tons.
Orange County Crating is a licensed crating company that is also a certified supplier of wooden crates and shipping containers. We take pride in ensuring that we remain up-to-date and fully compliant with all shipping rules and regulations, including international requirements for heat-treated lumber. Interested in learning more about our comprehensive packaging, crating and shipping services? Call us today to schedule a FREE estimate with one of our highly qualified professionals. Estimates can be processed online, by phone or at your Garden Grove site.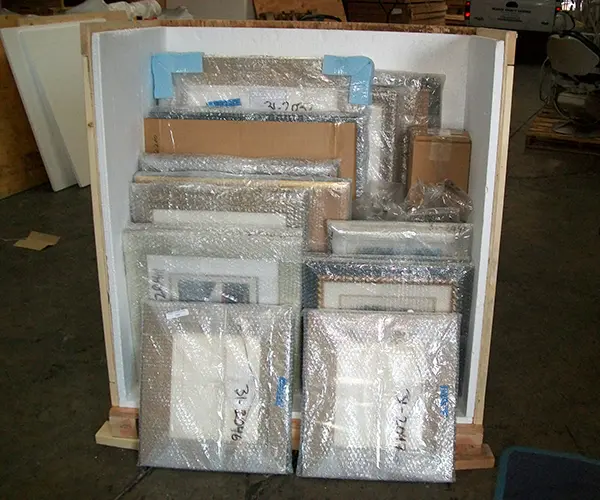 Orange County Crating's Superior Wooden Crates, Boxes and Pallets for Garden Grove, CA
Orange County Crating has been custom designing, engineering and building high-quality wooden crates, boxes and pallets for Garden Grove clients for over 50 years. We will help you make sure that your packaging choice is a fully informed one. Whether you already know your container's specifications, or you'd like us to calculate them, we will design a crate, box or pallet tailor-made for the safe transport of your items by using our exclusive state-of-the-art software. And because we have long-standing ties with most major shipping companies, we can easily coordinate and even negotiate discounts for your shipments. Our most commonly used shipping options are wooden pallets, crates and boxes. Read below for more information.