Orange County Crating--Offering the Highest Quality Custom Wooden Crating, Packing, and Shipping Services to Costa Mesa, CA for Over Five Decades
Since 1971, family-owned Orange County Crating has supplied a broad range of clients in Costa Mesa and the surrounding areas with exceptional, customized wood crating and shipping solutions. We've packaged and shipped items for nearly every industry represented in Southern California, including but not limited to aerospace and defense, auctions, antiques, fine art, medicine and research, technology, telecommunications, and the automotive industry. We've also provided numerous individuals, families and estates in Costa Mesa with our top-rated crating and shipping services.
Having served thousands of clients over the last 50 years, Orange County Crating has established an impeccable reputation for:
unmatched packaging expertise and knowledge provided by our employees--many of who have been with us for over 20 years
designing, engineering and manufacturing completely customized wood crating solutions
offering competitive shipping rates as a result of our long-term relationships with major domestic and international shipping companies
highly professional customer service with reliable results and fast turnaround times
We work closely with each of our clients to determine the best solution to their packaging and shipping needs, and ensure that the entire process is smooth and efficient from your initial quote to final shipment.
Additionally, by having Orange County Crating provide both your packaging and shipping, we ensure that the shipping arrangements are tailored to your particular items, meaning that your items will arrive safely at their final destination with far fewer errors and a greatly reduced risk of damage to your items while in transit. This process is enabled by our use of our own advanced packaging software, which also gives us the ability to provide you with an accurate, comprehensive quote in just minutes, regardless of whether your shipment requires pallets, boxes or crates.
Interested in learning more about Orange County Crating's services for Costa Mesa? Call us today to begin planning your next shipment.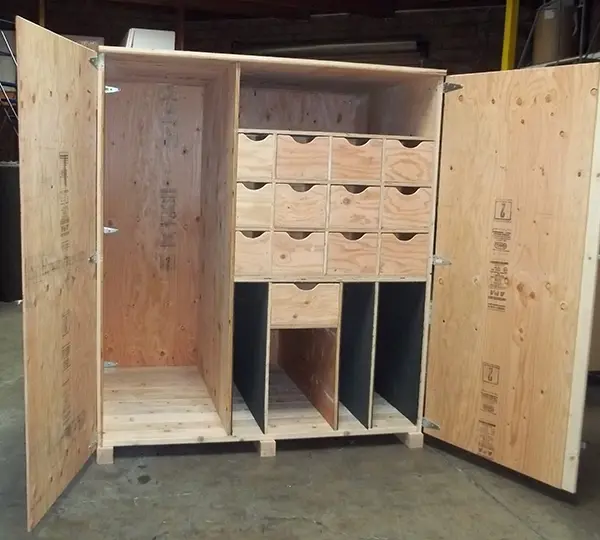 Orange County Crating Offers Costa Mesa, CA Top-of-the-Line Custom Wooden Packaging and Crating
For over 50 years now, Orange County Crating has provided exceptional wooden packaging and crating to meet a broad range of needs in Costa Mesa--whether we're shipping products to our clients' customers, to fine art galleries, museums, trade shows or show rooms, or to relocated offices, manufacturing sites or new homes. We understand that when it comes to packaging, one size doesn't fit all; that's why we offer a variety of packaging options to meet each client's individual needs: